Inspired to teach children Latin America dance style, such as Salsa, Merengue, Cumbia, Tango and Samba based to help kids build self skills, social skills and motor skills.
Children get a chance to be part of a dance class and learn the moves to the fun choreographies of Miss Val soundtracks. Each program teaches children different Latin dance moves to styles based on the song of its origin. Each program encourages children to move and connect with the Latin culture while learning about different Latin cultures, basics of the Spanish language in a creative and imaginative world.
About Miss Val
2019 Award winner of Latin Young Australian Entrepreneur of the Year by Council of Australian Latin American Relationship (COALAR) and world class dancing program leader in helping many children to believe in their passion and achieve their dreams. Born in Buenos Aires, Argentina and raised in Australian with a passion for dancing, creating an inspiring, lovable and engaging dance school that touches millions of children's hearts.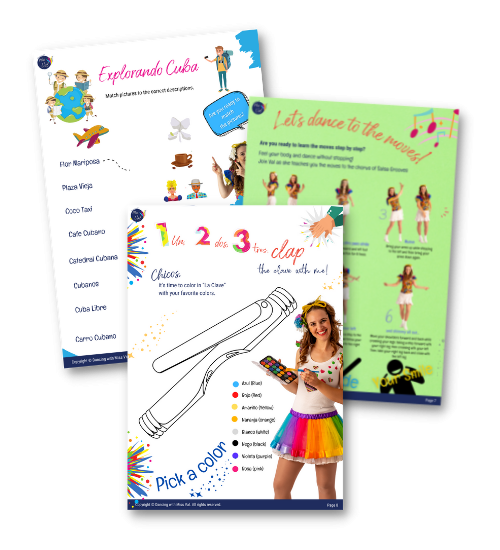 Why this Program?
For Parents
Do you often struggle to find dance tutorials connecting children with Latin culture in an engaging way? Do you face difficulties in getting your child learning Spanish?

This program is designed to help your child learn how to dance while learning about the Spanish Language and Latin culture through the activity packs and e-books in the courses.

For Teachers
Would you like to create speaking, writing and listening opportunities for students through intercultural understanding learning? Making culture come alive by developing passion and growth in speaking Spanish, blending culture, language, dancing and music.

Rather than taking time to plan and research, mapping to the specific parts of the Australian curriculum, and designing your own resources, you can access resources to build an understanding and appreciation of how Latin American culture shapes world views and student's understanding of yourself, your heritage, values and identity.


Applying a collection of intercultural tasks and activities, mapped to the Australian curriculum (from years 3-8), with detailed lesson plans to help deliver learning, a teaching tool kit that includes listening resources and music, dance tutorials, worksheets and suggestions for evaluation. In this program, you'll have the opportunity to hear about a fresh approach to a new way of language learning, with ideas for your classroom and current online content, that is engaging and fun in an Australian context.
Explore our Courses!
Don't loose the opportunity to learn how to dance, speak Spanish and connect with the Latin culture!

Never miss our news.
Subscribe to our newsletter!
Get monthly updates, news and resources for your students and child!
Created with